Articles
School culture building-a century in the making
Anna Warren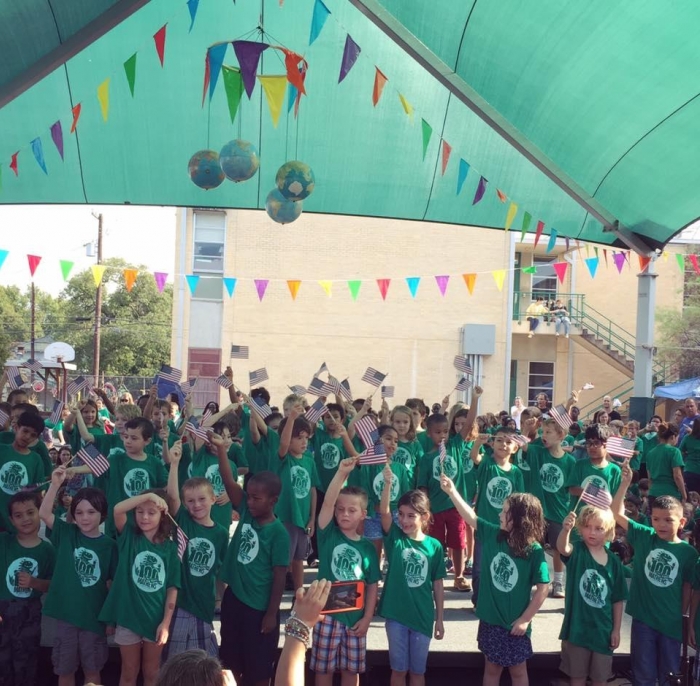 Happy 100th birthday, Mathews Elementary!
Last week, under a big green awning, and beaming proudly despite a passing rain storm, Mathews students and staff celebrated their school's 100th birthday. Their former mascot, the mountain lion, and their current (since the 1980's) mascot, a monster-like dinosaur sort of creature, joined all 300 children in a student led pageant, singing and dancing and story-telling their way through the history of the school, reminding guests of its longtime Austin reputation as a diverse, eclectic, special place for kids.
Thousands of kids!
As Ms. Pat Cloud, a student at Mathews in the early 1940's, told the party go-ers, "think about how many students have been impacted by Mathews. They have walked the halls, played on this playground, been loved and cared for and taught by many special educators, and grown up in a historic, diverse community."
Historic is right.
Mathews School was built in 1916, and is tucked into Clarksville, one of the original freedom towns, near the heart of downtown Austin. Included in the National Register of Historic Places, Mathews is situated on one of the neighborhood's pedestrian friendly main streets and is a hub for community activity.
The Mathews Way
As a teacher and administrative intern there, I learned the school "language", celebrated its routines, rituals, and ceremonies, and experienced the comradery of the community. I relished my time there, in such a historic place with so much love in it. I got married that year, and my students came to my wedding. My principal allowed me to shadow her every move, shaping me as a newbie administrator.
I only taught at Mathews for one year. One year out of my 32 years in education. But I keep going back. I went back for the school's Octoberama event for many years and returned in 2006 to celebrate its 90th birthday. When my own kids and I are in Austin, I insist that we "drive by Mathews". (It's conveniently located near the Hope Outdoor Graffiti Gallery, a favorite Austin stop for us, and a pleasant, albeit hilly, walk from the school.) I take out-of-towners by Mathews and tell them about "The Mathews Way".
The Mathews Way? It is hard to explain. The building is beautiful and historic and oh, if its walls could talk! Yet, it's not really about the building. It's about the people. The students, the teachers, the school leaders, the community members, who, over 10 decades, have created The Mathews Way.
A Century of Culture Building
In their book, School Culture Rewired, Steve Gruenert and Todd Whitaker talk about the Building Blocks of School Culture. The Mathews Way has evolved through building these blocks of culture and honoring them, one year, one day, one moment at a time, over yes, 100 years.
Some examples:
CLIMATE-The way we feel around here
Walk up the front steps of Mathews, and you feel it. Head down the hall, through the tall old classroom doors, and you see it on the kids' faces. Chat with a staff member, and you hear it. Positive. Inclusive. Happy.
MISSION AND VISION-What we do and what we hope to do
Mathews' official mission is to educate children with positive attitudes, academic foundations, and a lifelong love of learning. There are not one, but three school songs, all with this theme. The kids enthusiastically sang all three of them, by memory, waiting for the rain to pass at the celebration. At Mathews the mission is more than a statement hanging on the wall. It is The Mathews Way.
HEROES-Models of behavior, highly prized
The star actor of the birthday party pageant was the student who portrayed "Dr. Mathews" a school board member in the early 1900's, who is the school's namesake. Dr. Mathews is an honored, highly-prized hero.
There are the hero school leaders who have led Mathews. All of them have been crucial in carrying on the school's mission and vision, and honoring its history. Grace Martino-Brewster is the current proud principal. Her energy, love of Mathews, and dedication to its past are contagious.
Then, there's Mr. Naze Washington, the school's custodian during my tenure there. The custodian who kept the old school shiny and clean, in between helping students, doing lunch duty, reading with children, being a mentor to them, and… helping teachers move into their classrooms, up the stairs, to the second floor, in the Texas heat. (This is how I first met Naze, when I arrived to unload a full car of "teacher stuff" in August, 1990.)
All schools have heroes. Mathews has 100 years of them.
STORIES-Currency of the culture
This is perhaps the strongest building block at Mathews. The many stories shared and told over a century connect current staff and students with the institution's past. Gruenert and Whitaker tell us, "Stories keep an institutional memory sharp. They increase commitment and loyalty and reinforce artifacts of culture."
What can we learn from The Mathews Way? We can learn 100 years of culture building. That every single moment over time impacts that culture. That schools are a lot more than learning institutions. That whether the school building is sparkling new or exuding history, it's about the people in that building.
People
Telling stories.
Being heroes.
Living the vision.
Happy 100th Birthday, Mathews Elementary School!
------------
More Mathews 100th Celebration Tidbits: *Mathews Friends for Excellence, a group comprised of former staff, parents, and students, was instrumental in working with the school and PTA to plan this event. *A staff reunion was attended by over 70 current and former faculty members. * Alumni attending the event attended school there from the 30's and 40's and beyond.
About the author-Anna Warren is Coordinator of Statewide Leadership at Region 13 Education Service Center. She co-wrote the 3-day Advancing Educational Leadership training, with a passion for the belief that building relationships and a positive culture should be the foundation for any school's success.
Follow Anna on Twitter-@AnnaLdrshpCoach
Thursday, September 29, 2016